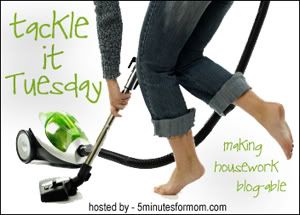 I love the new way I've started doing my to-do list. Lisa over at Crazy Adventures in Parenting gave
a link for html help
regarding just these kinds of posts. So now when Blogger is cooperating, I can update my progress
daily
as I get around to it.
It really helped last week to see how much I'd accomplished and how much I still had left to go. Also, the public display factor helps to motivate me, and keeps me accountable. Even my kids read this blog sometimes, so I can't check it unless I've actually done it!
So this week, I'm tackling another to-do list to work on throughout the week. Even if I don't get through it all, I've got a good jumping off point for NEXT week, right? Here goes!
Daily Items
Continue daily bible study/prayer
Read/Respond/Clean Out emails
Read/Clean Out Reader
Do item from Office Organization list
Tuesday: Already off to a bad start. I had some last minute plans and was gone until 8:00 tonight for an important meeting, so I accomplished pretty much nothing today.
Oh well, maybe tomorrow!
Weds: Kept up, but didn't do any catchup
Thurs: Getting alot accomplished today. Caught up some of the items from Tues.
Fri: Getting a late start on the list. This week has been full of sideroads (necessary sideroads but sideroads nonetheless!)

Weekly Items
Laundry Catch UpPay Bills/Paperwork
Plan/preparation of Blog Posts
Kitchen Prep
breakfast sandwiches
cookies
church pot-luck
cancelled this, not going to the pot luck this time (something came up)
Spring Cleaning Items
PorchEntryway
Dining Room
Declutter books from book shelves
Change clocks on Sunday (time change)
Check batteries in smoke alarm
Reunion Items
Mail out surveys/bios to new addresses
Research more banquet venues
-
delegated this item out but I'm adding new ones :)
Try to make calls on the short list
Update my spreadsheets and email them to the boys by next week
Get with H. and see if she can use a hand getting started on her list or with making a website

Other To-Do Items
Boxes from Storage
Prepare Garden Beds

Phewww!!

That's a pretty long and ambitious list. I know though, that it can be done if I will make good use of my time, and be like the Nike commercial..."Just Do It!"


Be sure to check back throughout the week as I'll be marking these off as I do them! And if you're interested in seeing what others in the blogosphere are tackling this week, be sure to visit Tackle It Tuesday @ 5 Minutes for Mom and To-Do Tuesday @ Crazy Adventures in Parenting.