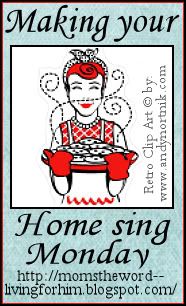 Didn't you absolutely LOVE the weather last week? I TOLD you,
if you clean it, spring will come!
I guess that means I better keep it up, so that this good weather will stick around a little more.
This week I'm in my kitchen.
I've divided my small kitchen into five areas, so that I can tackle one area per day, hopefully.
Clean Fridge Inside/Out/Top/Underneath & coils
I think that's pretty self explanatory
North wall cabinets, counters inside & out
This consists of the stove, and cabinets above, the sink and cabinets below and one set of upper and lower cabinets, and counter top. Also are two shelving units (the little bookshelf type). One houses our toaster and coffeemaker and the breads and drink assortments that go with them. The other holds plastic cups and easy access items for height challenged youngsters.
East wall cabinets, counters inside & out
Countertop with drawers and cabinets underneath (houses plastic storage and pitchers, etc). Also this wall contains a shelf that holds my staple supplies, breadmaker, some cookbooks and large items like electric skillet, crock pot, etc.
Pantry
Self explanatory
floors, windows & decorative touches
I'd like to bring a little spring inside. Not sure yet how I'll do that. Maybe I can scour the resale shops this week for some spring patterned items?
Well, I'm ready to get started in the morning. Wish me luck! With this project, the photo project that's all over my dining room table and my to-do list I have scheduled for my garden, this is going to be an awfully busy week.
Oh, and my mother in law called and asked me to bake an alien cake for my father in law. I'm tickled to do it, but hope I can figure out how to make an alien. I'll remember to get pictures this time. I forgot with Evelyn's cake until it was too late.
To see how others are making their own homes sing this week, head over to
MomsTheWord
. She has a terrific post this week about hospitality.