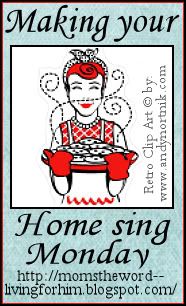 Before I took off the past two weeks, the "singing" I've been doing for my home has been spring cleaning my house one room at a time. Well, if you read those posts you will remember my theory,
"If I clean it, spring will come."
Apparently I was correct in that assumption, because the minute that I stopped cleaning look what happened? We got about a FOOT of snow!!
Well you know what that means! I'd better get back to cleaning on the double!
So this week I'm turning up the stereo and singing along while working in my bathroom and living room on Wednesday. I'll dance right into the girls closets on Thursday, working on putting things into order and getting it organized in there
On Friday, I'll work in my room. I'll be cleaning it top to bottom and putting the focus on the decorations in that room, especially the curtains. That should make for a very harmonious week that should put the
spring
right back into our weather by the weekend!
Wish me luck!
And to see what other bloggers are doing to make their homes sing, please check out
Home Sing Monday @ MomsTheWord
.