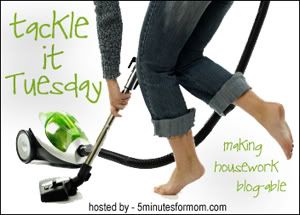 I thought I would be in town by now. I am feeling so much better, I feel like I've finally kicked this cold. There's nothing left now but just a little bit of cough and congestion (easily fixed by otc cold meds).
But wouldn't you know it? Yesterday at just about bedtime, Abigail starting throwing up. She threw up from about 8 last night until about 10:00 this morning about once an hour or so. So we spent the night in the living room with her on her princess couch (washable and I can throw it out if need be too) and staying close to the bathroom. I washed sheets and towels all night and when she finally stopped throwing up, we both slept on the big couch until about 1:00 this afternoon. So basically, I've accomplished nothing today (except for the fact there's no sick laundry to do, I did it as we went!)
I'm waiting until my husband gets home to go to town for groceries. I don't want to risk throwing up in aisle three!!
I've been doing really well with these lists as part of Tackle It Tuesday. Over the weekend I found another blog (one that participates in Tackle It as a matter of fact) that is also doing lists to tackle. She has a carnival too. So I thought I would link to both carnivals with my lists now. So go to both
Crazy Adventures in Parenting
and
5 Minutes for Mom
to see other lists and tackles this Tuesday!
Here is my list for the week!
Daily Items
Continue daily bible study/prayer
Work on reunion items each day
Weekly Items
Grocery shopping/errands
Kitchen Prep:
make broth
muffins for lunches
breakfast sandwiches
prepare dish for neighbors (just had baby)
Garden bed preps
Photo projectPay Bills/paperwork
Blog/Computer Work

Check Reunion email everyday
Check regular email everyday/clean out
Clean out reader everyday
Reply to comments/Comment on other's posts

Update Reunion Website



Make posts for next week:


Gratituesday

WFMW

Homeade Thursday

Frugal Friday





Cleaning List



Bathroom (get shower curtain)Computer room and desksLiving RoomDining RoomKitchenPantry
Everyone cleans bedroom/help Abby
Master bedroom
sheets
laundry catch up day
The way this list is set up (
thanks Lisa
!), I don't need to do another post to report my progress. I can edit the html as I go. See how much I'm learning by blogging!! So I will come back once per day and edit my progress on the list. Talk about accountability!