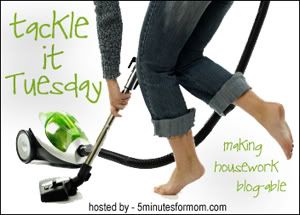 Well I have alot of goals to accomplish this week. What I have decided to do for Tackle It Tuesday's from now on is list my goals for the WEEK, and try to accomplish as many as possible on Tuesday, and on Saturday I will report back with whether I finished up or not with my list for the week on Ta-Da Saturday (my own thing, not a carnival). So To-Do's on Tuesday...Ta-Da's on Saturday.
I will update the list throughout the day with red check marks, for the things I have accomplished today.
New Bible Study Program daily (3/7 days done!)

Organize File Cabinet (this is a big job, I'm redoing the whole system)

Get tax stuff together to take to accountant next Monday
Continue working on photo project
Get garden plotted out

Blog planning and posting list

Bake and Decorate Evelyn's cake
call school regarding some paperwork needed
freezer inventory update and reorganization
updated 4:12 pm Tue-accomplished the checked items. I will hopefully have the remainder finished by Saturday!