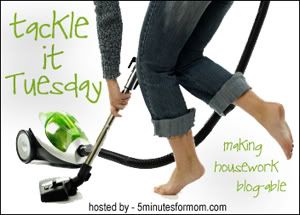 Well today school was cancelled because of snow. With extra people in the house you would think things would go faster (extra hands) but somehow it doesn't quite work out that way.
Here is my list for today. I will update it as I get more things accomplished:
All laundry washed, dried and folded or hung up and put away
Kitchen cleaned up from breakfast and lunch and ready for supper
Spend 30minutes -1hr on photo project I'm organizing in my bedroom
Clean Bedrooms (and help Abby when kids clean theirs)
Do my 365 Deed
Update: I added in making a loaf of Banana bread (and muffins) while I was cooking supper. Still haven't finished Abby's room but finished mine. We will work more on her's after dinner.
To see what other people are working on today, go see
5 Minutes for Mom