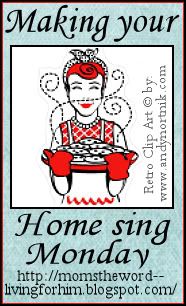 As I've been going through my home getting the spring cleaning done the past few weeks, I've noticed something. In each room there has been some area that is neglected that
I don't seem to see.
It is as if I have blinders on, and do not see the clutter, the fingerprints or whatever the issue may be apparently because I am used to it. It looks as though I've been ignoring some issues instead of dealing with them.
For instance, our mud room is at the back of our house. It's an extremely small space, just a narrow room with washer and dryer and a few shelves that I've put in there to hold the overflow from our pantry. There is the backdoor and one small window. This past week as I was finishing up some of my cleaning, I tried to walk through my house several times a day with fresh eyes. Many experts suggest that we walk through our house "like a realtor". If you were going to buy this house, or if you were a guest in it, what things would you notice?
In our mudroom, I immediately noticed the stack of coats on my washer. As we come into the house from the backdoor, we hang up our jackets on hooks in our mudroom. The problem is that there are only three hooks, but there are alot of us. So when all the hooks are used, we tend to just throw our jackets and coats on top of the washer, so they are handy when we go out again.
The remedy for this problem was so simple, inexpensive and took maybe five minutes, but because I've had on my blinders for so long, it's just one of a million tiny little things that I haven't dealt with. I put "coathooks" on my list that I have been carrying around the house with me and the next time I went to town last week, I picked up a couple. I installed them within minutes and now, lo and behold, I don't have to move the jackets to do laundry and our mudroom looks ever so much neater.
Isn't it amazing how such a simple thing as coathooks can be ignored for so long? And that's just one example.
What little things have you been letting slide around your house? Take the blinders off, take a look around and be sure to let me know what you notice.
To see how others are making their homes sing this Monday, check out
MomstheWord
.