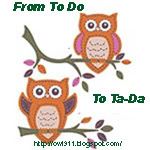 I've had a rough week and haven't gotten much done at all. With doctor's visits and just taking care of my son, I've had my hands full just getting the day to day laundry, cooking and housework done. I didn't get much of my extra work done this week.
Well, here is the damage:
Tuesday

Morning routine
Work on proposals
Monthly accounting
Garden work
Chicken and Noodles
Reunion calls made
Post Wed blogs before bed
Tue: Today was mostly about unpacking and laundry. Recouping from the trip. I put off all of these tasks that weren't done until Wednesday, but of course I didn't catch up all week.
Wednesday
Morning routineTahlequah callsDillon follow up with Dr.
Extra Blog work
WHS site work
reunion tasks
Shake and Bake Chicken
Post Thurs blogs before bed
Wed: Today we went to town for the doctor and stayed most of the day getting some shopping, etc done.
Thursday
Morning RoutineClean KitchenClean out fridgeTake out trash (trash day tomorrow)
Garden Work
Grilled Burritos
Post blogs
Thurs: Got a little more done today, but still didn't catch up the stuff I was behind on. We did a fend for yourself for dinner.

Friday
Morning Routine
Bill day
Catch up anything that didn't get done
Tahlequah and WAH calls
Pizza
Post Blogs
Fri: Today I spent almost the whole day job hunting. I've been doing that every Monday and either Wednesday or Friday all along, but usually just one or two jobs at a time, and it doesn't take long. Today there were a whole lot more new jobs posted and I found a new website to look on, so I spent almost the whole day on that and didn't get a whole lot else done.

Saturday
Morning Routine
Garden and Family day
Grill Night (burgers, chicken, variety)
Post Blogs
Sat: Today all I did was clean house to get ready for Sunday, having in-laws over for Mother's Day.
Hopefully I can get a little bit more done next week than I have this week. Dillon is doing a little bit better and I've kind of gotten into the groove of things now after a week of it, so maybe this next week will be a little better.
I hope you did better than me this week, but either way, let me know in the comments. Or if you make a post about your week, you can link up to Mr Linky as well.